2011 Leavenworth Oktoberfest
The 2011 Leavenworth Oktoberfest begins on Friday, September 30 and Saturday, October 1st. As usual, the celebration continues the following two Fridays and Saturdays on the 7th & 8th and 14th & 15th. Tickets are already on sale and can be purchased here.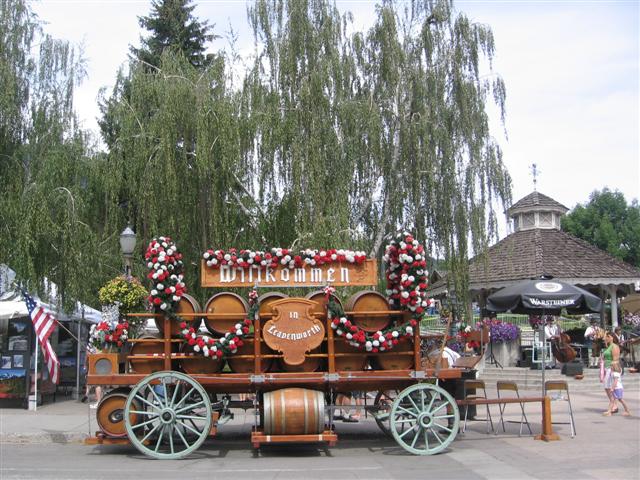 Accommodations will be tough to come by in Leavenworth during the festivities. Visitors may want to consider staying in the much larger city of Wenatchee, which is 25 minutes down the Wenatchee River. Shuttle service is available between the two cities for a fee with a free shuttle within Leavenworth.
Oktoberfest Activities
In addition to great beer, the event will also include live music, German food, and arts and crafts vendors. Leavenworth's Musikkapelle Leavenworth band will perform in addition to other music groups from the U.S. and Germany.
Leavenworth's Oktoberfest celebration is the largest in the world outside of Germany. The Bavarian themed village in a scenic valley along the Wenatchee River is one of Washington State's most popular tourist destinations.
The event is held in the city's Hallfeste venue. Get there early by 1:00 p.m. on Saturdays for the Bavarian "tapping of the keg" tradition performed by Leavenworth's mayor. The entertainment is non–stop and the hours of the event are 6:00 p.m. to 1:00 a.m. on Fridays and Noon to 1:00 a.m. on Saturdays.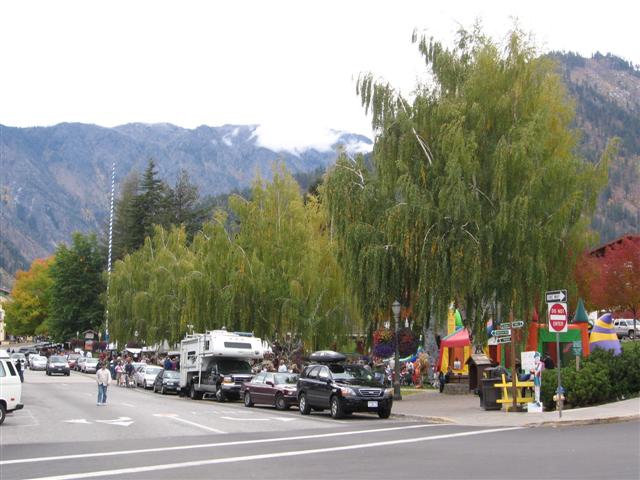 Bring the Kids and Food Options
Just because this is Oktoberfest, doesn't have to mean you have to leave the kids at home. Kids are allowed inside the event's gates until 9:00 p.m. There is also the nearby Kinderplatz, which is a great play area for kids that includes bouncing toys, clowns, and a rock-climbing wall.
The Bavarian Parade, which starts at noon on Saturdays, is also a great event for kids. The band arrives on a colorful bandwagon playing traditional Bavarian marches and polkas. There are also performers, dances, horses and wagons at the parade. Many people get in the spirit and wear colorful Bavarian lederhosen.
Food served at the event includes Bratwurst, BBQ ribs, beans, chicken or pulled pork sandwiches. There is also German style cake with whip–cream and don't forget to bring home a souvenir mug. To help ensure safety, dancing on the tables or benches is strictly prohibited. There are also security personnel present.
Planning Your Visit
For more information, check out our pages on Leavenworth Hotels, weather, and driving directions. There is also motor coach and train service to Leavenworth, in addition to Wenatchee's Pangborn Memorial Airport. Plan your visit to the 2011 Leavenworth Oktoberbest Celebration today!