AN OUTDOOR RECREATION CENTER
Plain, Washington is a small community 14 miles north of Leavenworth along the Wenatchee River. This unincorporated community in Chelan County is so small in size that its population isn't calculated, but the town is notable.
Plain is another reason why the Leavenworth area is so fantastic!
Zipline in Plain
Don't let Plain's name fool you. The community is in a scenic valley surrounded by mountains and only five miles from Lake Wenatchee. Natapoc Ridge rises 2,400 feet in elevation above Plain to its west.
Plain's a popular outdoor area with several camping areas and a number of cabin and lodging options with a number of nearby lakes and streams.
It's the community most closely connected to Leavenworth in terms of recreation with business names such as Leavenworth Ziplines.
Exploring Plain
In town, there are a number of businesses including Just Plain Grocery, Old Mill Cafe, Plain Automotive, Plain Hardware, and construction businesses. There is also Plain Community Church and Beaver Valley Elementary School.
Lake Wenatchee State Park, Chiwawa Sno-Park, and Nason Creek Campground are all less than seven miles from Plain heading out through Beaver Valley Road.
Summer at Lake Wenatchee
Plain Warm Weather Attractions
For a small community, Plain has lots of attractions for visitors. Things to do in the spring, summer, and fall include:
Leavenworth Ziplines
Horse Rides
Plain Cellars (winery & vineyards)
Kahler Glen (golfing and athletics)
Mountain Springs Lodge (wedding venue)
Mountain Springs Lodge is a highly rated venue with a fantastic lodge and cabins in a mountain setting. The Leavenworth Ziplines is adjacent to the property, as is Leavenworth Snowmobile Tours during the winter.
Plain Winter Attractions
Plain is about 650 feet higher in elevation than Leavenworth, which means it gets more snow in the winter and is slightly cooler in the summer.
In the winter, there are:
Horse Drawn Sleigh Rides
Cross-Country Skiing
Snowmobile Tours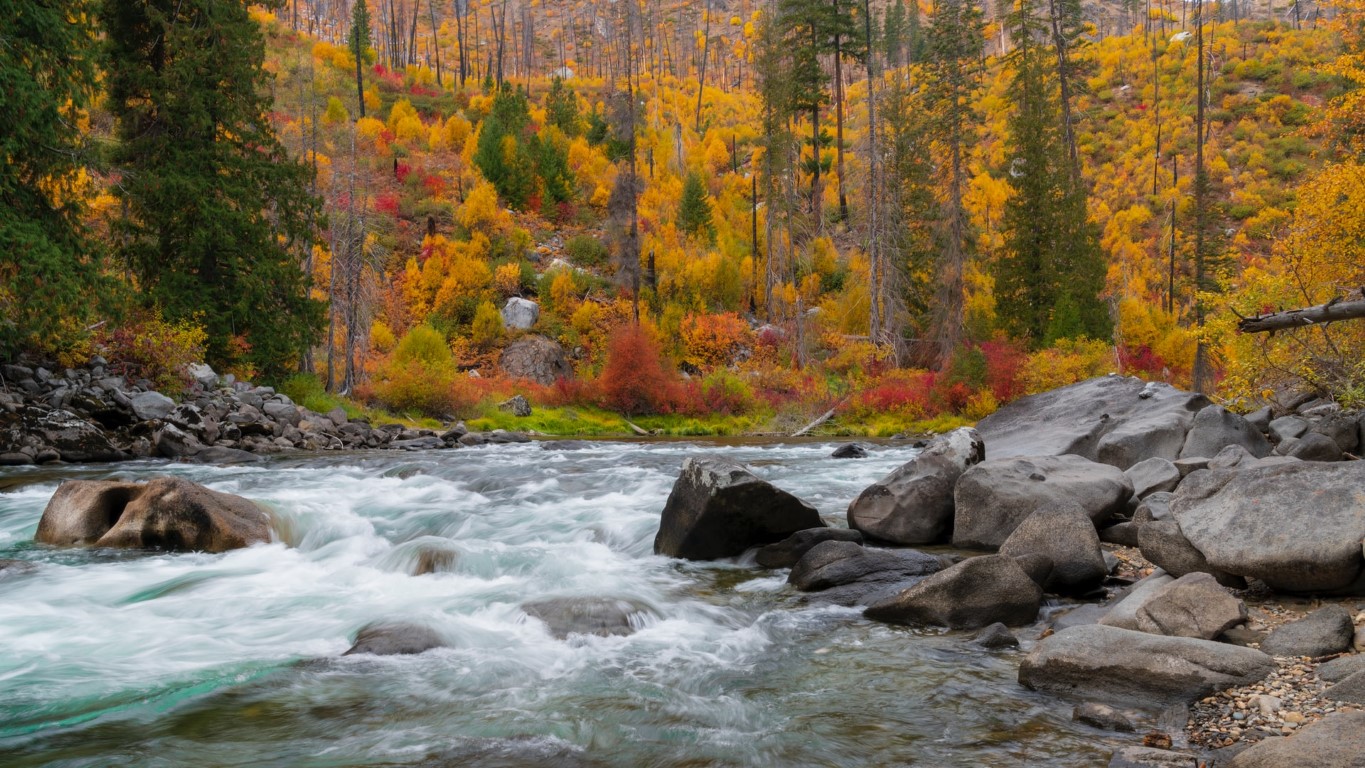 Fall in Tumwater Canyon
How to Get to Plain
There are two ways to get to Plain from Leavenworth. The fastest way is to take Chumstick Highway north. This route follows Chumstick Creek and takes you past the Leavenworth Reindeer Farm. The route is an old railroad grade.
The second route to Plain from Leavenworth is via Highway 2. The route takes you through Tumwater Canyon and then you turn off at Highway 207 to go north to Lake Wenatchee.
After you pass Nason Creek Campground, you turn right onto Beaver Valley Road which turns into Chumstick Highway, and Plain is a few miles to the south. This route is farther and adds about ten minutes to the drive time.
The above routes can also be done as a loop from Leavenworth to take in the scenic views from both routes, enjoy the Plain area, and Lake Wenatchee.