Bavarian Themed Towns in the U.S
While Leavenworth may be the only Bavarian-themed village in the western U.S., there are other Bavarian-themed towns in the country.
These cities have special building requirements and vibrant, gorgeous scenery. They need authentic, delicious Bavarian food and a fun, festive atmosphere.
So besides Leavenworth, what other U.S. cities keep the Bavarian spirit strong and entice visitors with their charms and attractions?
Read on to find out where else you can experience the architecture, music, food, and celebrations that give you the feeling of a lively Bavarian village without having to get your passport and travel across the Atlantic.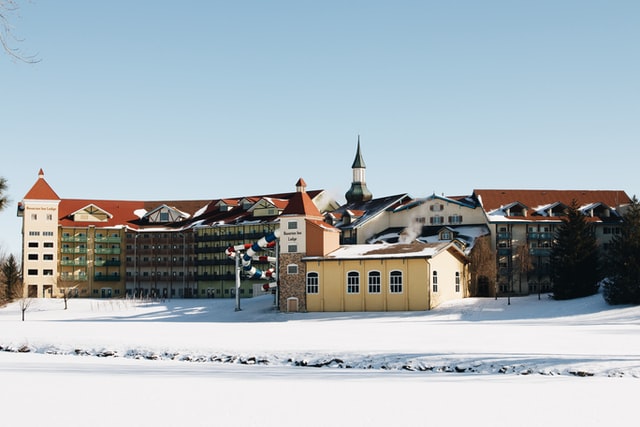 Frankenmuth, Michigan
Located an hour and a half north of Detroit, Frankenmuth, is known as Michigan's "Little Bavaria". It's the largest Bavarian-themed city in the U.S.
The city, which has a population of over 5,000 people, was founded by German pioneers and embraces its heritage.
Like Leavenworth, in Frankenmuth, you'll find horse-drawn carriage rides, huge holiday displays, excellent shopping, and delicious, authentic German food and beer.
In fact, Frankenmuth has the world's largest Christmas store, called Bronner's Christmas Wonderland.
VISITING FRANKENMUTH
In Frankenmuth, there is a historical museum, German wine tasting, the Cheese Haus, which has over 120 types of cheese, and the Franmentmuth Clock Company with more than 150 clocks. There is also fantastic Bavarian dining and lodging.
Frankenmuth is on the Cass River. The nearest larger city is Saginaw, is less than a half-hour to the northeast. Flint is a half-hour away to the south.
While Frankenmuth is lovely, unlike Leavenworth and the next city on our list there are no mountains in the vicinity.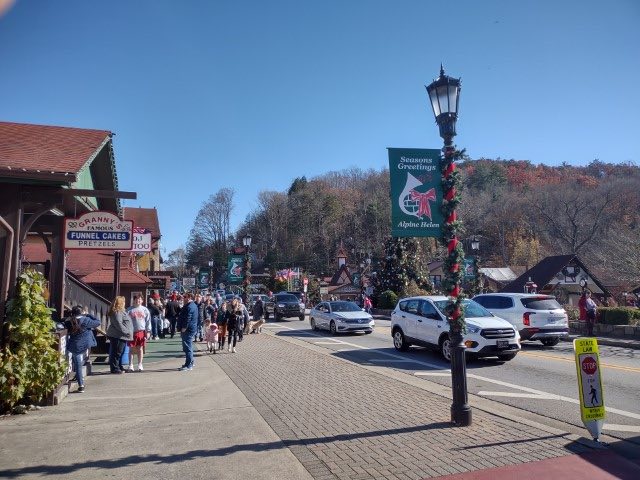 Helen, Georgia
Helen may be the smallest in population of the three Bavarian-themed towns covered here, but it's likely to exceed your expectations. There's plenty to see and do in Helen, which is set in the gorgeous Blue Ridge Mountains.
Helen is located an hour and a half northeast of Atlanta, 45 minutes north of Gainesville. Helen is actually the highest elevation Bavarian-themed city on our list.
Helen is a wonderful place to visit in the summer as with its higher elevation, it's one of the cooler cities in Georgia. But it's also a fantastic place to visit in the fall, winter, and spring.
AN ESCAPE TO RECREATION
Helen boasts nearby parks, beautiful waterfalls, hiking trails, and has an alpine theme. There are lots of things for visitors to do including wine tasting, mini-golf, zip lines, shopping, and fantastic Bavarian food.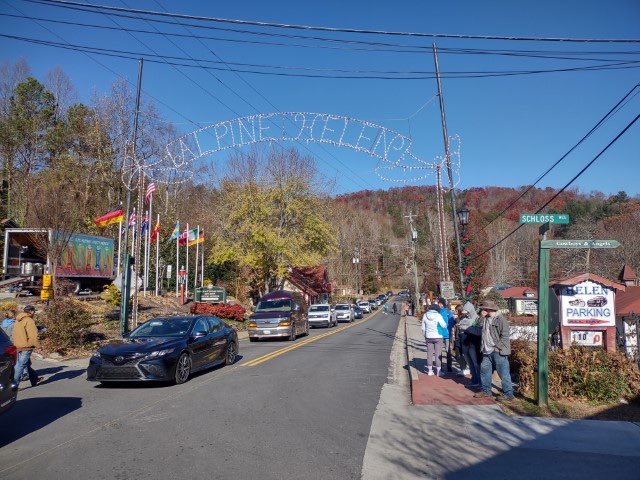 Helen has cabins along the Chattahoochee River and mountain getaways, allowing visitors to relax and get away from the hustle and bustle.
October and November are other fantastic months to visit as the hills come alive with vibrant, fiery fall colors.
German Themed Towns
There are other cities in the U.S. that have German architecture, rich heritage, and celebrations that include Bavaria.
These towns include Hermann, Missouri, New Ulm, Minnesota, Amana Colonies, Iowa, Fredericksburg, Texas, and Germantown, Wisconsin.
When to Visit
The three Bavarian-themed towns we've covered here are in three distinct areas of the U.S.: the Pacific Northwest, the Great Lakes, and the Southeast. All have four-season climates but there are significant differences between them.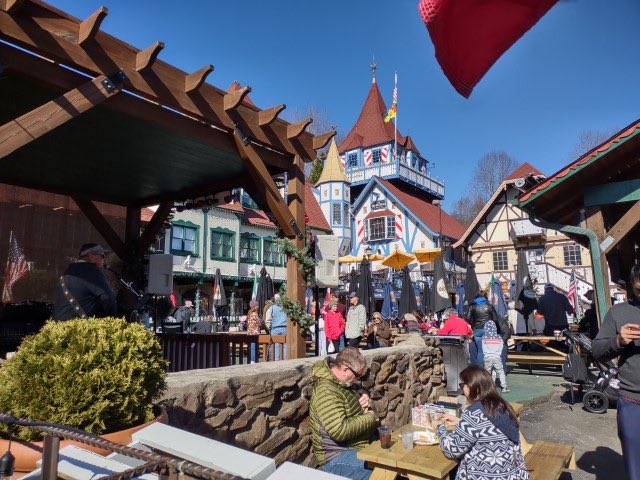 At 34 degrees north latitude, Helen gets the must sunshine, yet surprisingly, Leavenworth, which is at the 47th latitude, has the warmest summer climate of the three towns profiled.
Frankenmuth has the coldest winters, yet Leavenworth gets nearly twice as much snow on average.
Helen receives the most precipitation of the three cities, more than double the amount Frankenmuth receives. All three have fantastic, vibrant fall colors.
Experience Bavaria
Leavenworth, Frankenmuth, and Helen offer everything you need to enjoy the sights, sounds, and flavors of Bavaria without all the expense, time, and travel of a European vacation.
Frankentmuth is the closest to a major airport with Detroit Metropolitan Wayne County Airport being an hour and a half drive away.
Helen is the next closest to a major airport, one hour, forty-five minutes from Atlanta Hartsfield absent traffic delays.